Here's more about Food Safe's Sustainability Journey that we call Business Beyond Commerce
To start with here's some general background about sustainability:
Until the 1980s, companies used the word sustainability to mean the ability to increase earnings steadily and grow.
The term sustainability became more widely used in its present sense since 1987, after a UN report by Norway's prime minister Gro Harlem Brundtland, who defined sustainable development as "meeting the needs of the present without compromising the ability of future generations to meet their own needs."
Sustainability at Food Safe is bigger than a PR stunt or a green product line, it is more genuine than a heartfelt but occasional nod to ongoing efforts to save our planet or something we do just on Earth Day once a year!
Generally speaking, a meaningful sustainability journey has several components:
Social, to address conditions that affect us all, including poverty, violence, injustice, education, public health, and labour and human rights.
Economic, to help people and businesses meet their economic needs—for people: securing their basic needs; for businesses: turning a profit.
Environmental, to protect and restore the planet where possible, by controlling climate change, preserving natural resources, and preventing waste.
Cultural, to protect and value the diversity through which communities manifest their identity and cultivate traditions across generations.
We aspire to hold true to all of these values in the context we operate and do it in our unique Food Safe way.
So, what does business beyond commerce mean at Food Safe?
For Food Safe, being sustainable and going beyond commerce is a continuous improvement journey where we earn our social license to operate and grow!
We have taken our first steps and focused on the following specific elements for the road ahead:
Rangatiratanga: We strive to maintain a high degree of integrity and ethics in our actions and decisions.
Tohungatanga: We pursue knowledge and ideas that will strengthen and grow our value, brand and community. Helping people and companies and building intellectual property through R&D
Manaakitanga: We operate thoughtfully and engage meaningfully with our ecosystem: putting people at the core while we connect meaningfully with our wider global community including iwi and Māori, the Tangata Whenua, or indigenous people of New Zealand.
Kaitiakitanga We strive to minimize our impact: environmental, social, cultural, and on the ecosystem, we belong to.
We are transparent and accountable: to stakeholders and to the ecosystem we belong to.
This video below provides a brief snapshot of how we engage with our community and how you can too
The slides below explain our journey in more detail:
Our Tangata Whenua Guides and Mentors include Huhana Mete – Director of Tumanako Global Leadership & Peter Storey – Teaching and Learning Manager at Tai Poutini Polytechnic.
Te Whare Tapa Whā is a model of the 4 dimensions of well being developed by Sir Mason Durie in 1984 to provide a Māori perspective on health that we have incorporated at Food Safe to guide our approach to supporting not just Māori but all learners in our training programmes.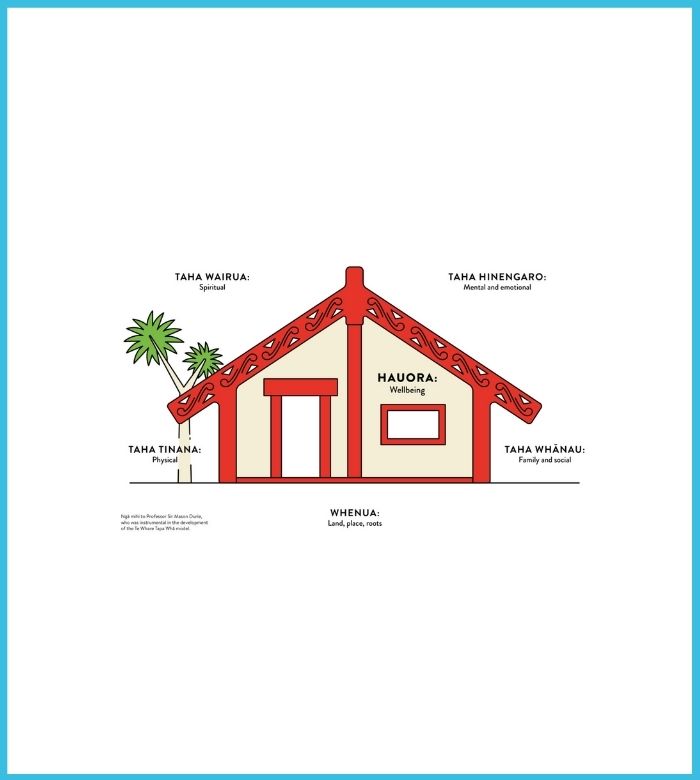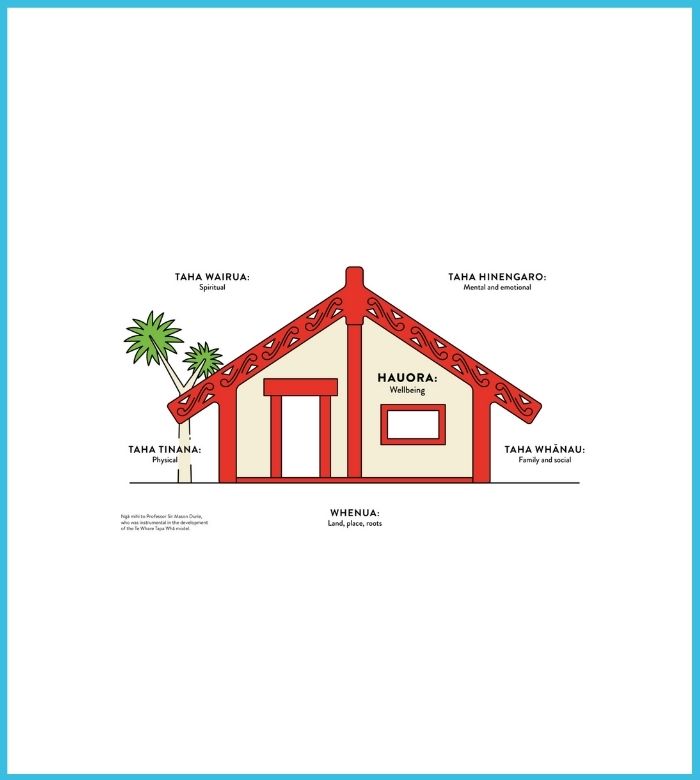 Taha Hinengaro (mental and emotional wellbeing) is a learner's mind, heart, conscience, thoughts and feelings. It's about how a learner feels, as well as how a Māori learner communicates and thinks. Taking care of taha hinengaro is important for all learners, regardless of whether or not they experience mental illness or distress.
At Food Safe: We allow all learners including Māori and Pasifika students to talk freely about their thoughts and feelings – both at the start, during introductions and throughout the training programme. We also provide nourishment such as fruit and refreshments where possible to improve mood and mental wellbeing.
Taha Whānau (family wellbeing) is about who makes learners feel like they belong, who learners care about and who they share their life with. Whānau is about extended relationships – it's not just learner's immediate relatives, it's their friends, hoamahi (colleagues), community, and the people they care about. Everyone has a place and a role to fulfill within their whānau, and whānau contributes to the learner's wellbeing and identity.
At Food Safe we allow all learners including Māori and Pasifika students to feel like they belong in the class. Our training resource provides an introduction in Māori so they can feel included and cared for. For example, we have on many occasions allowed all students to bring their moko (young child) along to class, especially in cases where a learner struggles to find care for their moko.
Taha Tinana (physical wellbeing) refers to a learner's physical wellbeing.
At Food Safe we allow all learners including Māori students to freely support one another in a class aimed at helping all learners to cope with the ups and downs at training as well as back on-job. We also provide opportunities to physically interact and practically apply skills on the job, helping support the physical wellbeing of all learners.
Taha Wairua (inner well being): A learner's inner drive is their life force – their mauri. This is who and what they are, where they have come from, and where they are going.
At Food Safe we allow all learners including Māori and Pasifika students to freely introduce themselves during our Pepeha/introduction (who and what they are, where they have come from) at the start of training.
We are committed to Manu Kōkiri that calls for 'transformational change' to the tertiary education system we form a part of:
Here is this vision that comprises five aspirations that Food Safe is committed to supporting:
Māori people enjoy significant tertiary education success.
Māori people enjoy increasing levels of health and wellbeing, including cultural health, and through tertiary education including through designing and delivering tertiary education study themselves.
Māori people enjoy increasing levels of economic prosperity including significant and meaningful employment success, and entrepreneurial and business success through the growth of the 'Māori economy'.
The tertiary education sector is positively transformed through the application of the Treaty of Waitangi and a positive engagement with the Māori Treaty partner.
Aotearoa-New Zealand is transformed positively through a tertiary education sector that has embraced the Treaty of Waitangi and the Māori Treaty partner.
Are you a trainee or small business manager or owner and keen to start your own business beyond commerce journey?
Here are some links and a useful template below
Links for small and large companies:
Keen to know more? Food Safe offers customized solutions in food safety training and auditing; to suit specific company needs. Call us on 0800 003 097 or email us at [email protected] for all food safety training needs.
Some steps and guidelines:
A useful template for small companies:
A useful ISO 14001 reference standard for larger companies:
Reporting guidance for companies:
Here's how Food Safe Collaborates with Food Companies:
Some of the Companies & Brands Food Safe works with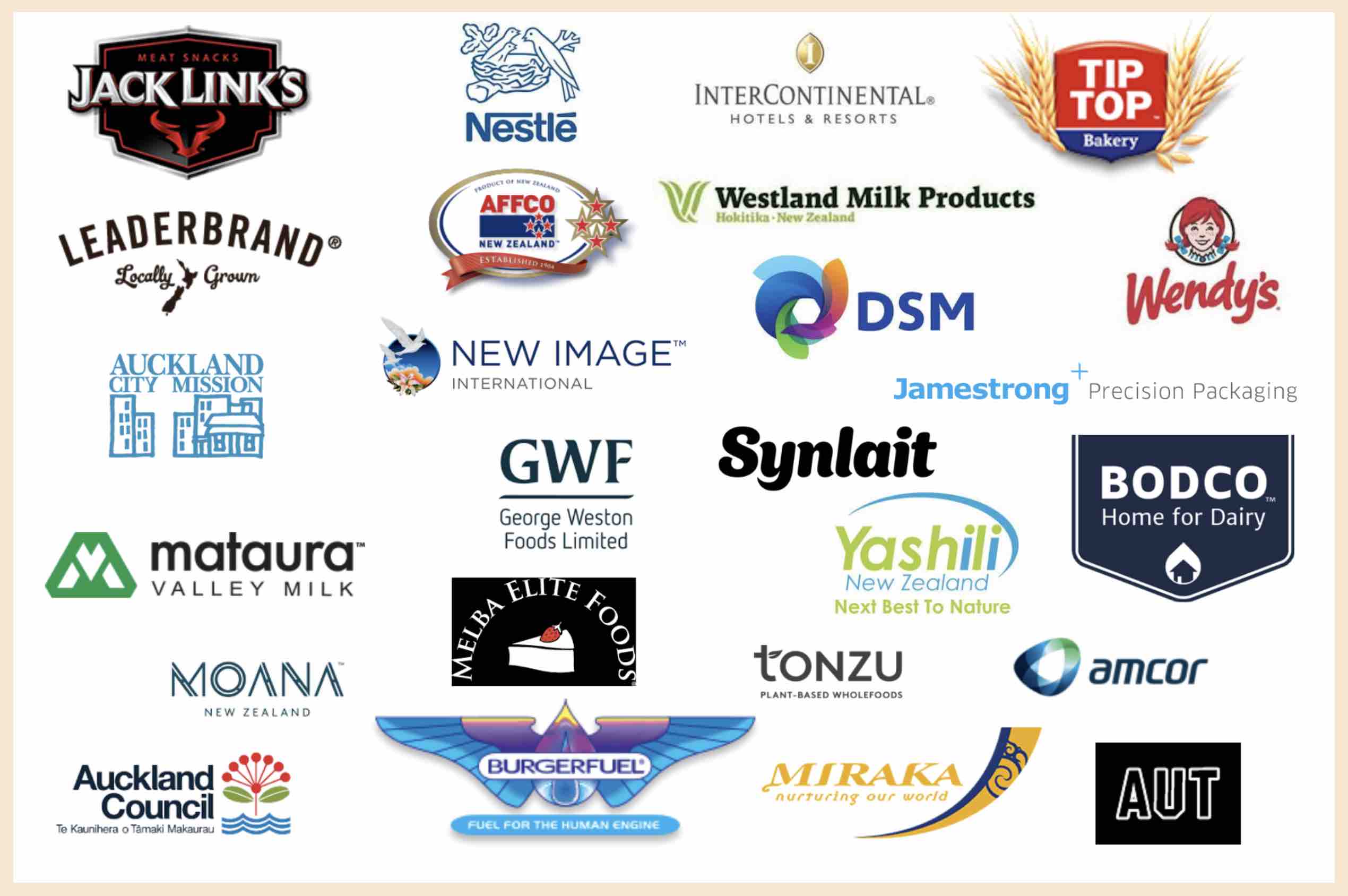 Food Safe Ltd is Accredited by the New Zealand Government + is a Category 1 NZQA-Registered PTE. Training complies with Codex Guidelines
Our training is trusted by both well known New Zealand and Global food companies and heaps of small teams too!
Our training is science-based on New Zealand regulatory and globally recognised best practice including – MPI, FAO, FDA, EU
Food Safe's advisory committee includes leading experts, quality and compliance managers, and governance experts. For even more information about Food Safe and the companies we work with, click here