Food Safe has been busy this year
We are very proud to have trained the QA team at AFFCO, Morewa. On this occasion, we focused on Advanced HACCP and Risk Control training.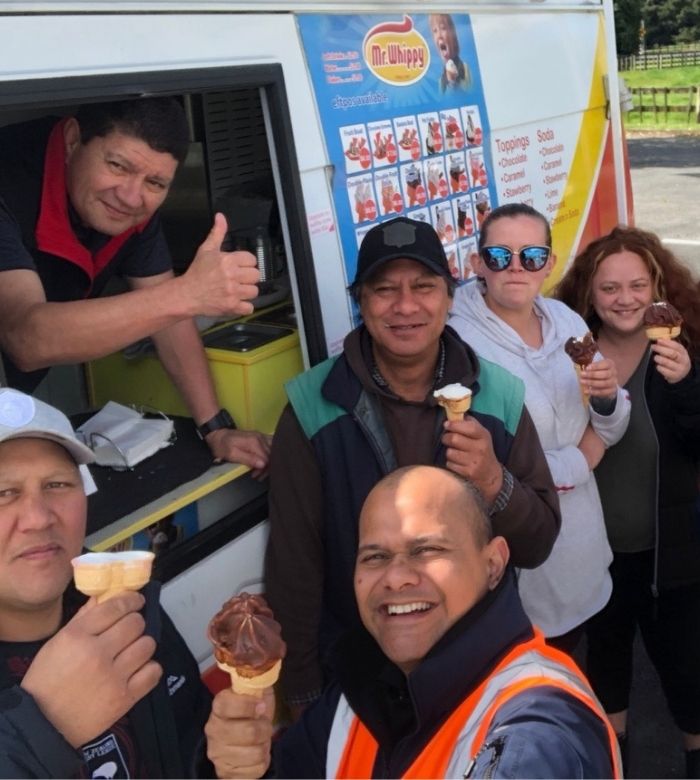 The team came out tops and celebrated afterward with a well-deserved round of icecreams from their Compliance Manager's Mr. Whippy's truck. We are already thinking about how to develop trainees further.
Food Safe offers Hazard Analysis Critical Control Point (HACCP) Training across New Zealand.
Food Safe has New Zealand's highest and consistent trainee review ratings by both score and numbers.
Google Business (4.9 stars/5 from over 350, year-on-year reviews) and
Facebook (4.9 stars/5 from over 150, year-on-year reviews)
Book your company's next HACCP training course by calling us in New Zealand on 0800 003 097 or +64 9 2814226 from overseas.
Here is a video about this HACCP training:
More about this training?
Advanced application of HACCP  – Develop, implement and review a HACCP application for a food processing operation- Unit standard 28265
Training can be used in all food sectors (MPI approved)
(This MPI-approved standard replaces Food Safe's current programme 16667 in the Dairy and 12626 in the Meat and 12316 Seafood sectors).
Programme Overview:
Two-day course
Submission of HACCP Plan assessment
Follow-up on-job verification
Suitable for: Quality Managers, supervisors, quality coordinators, HACCP plan review team members, facilities maintenance leaders, senior supply chain team members, senior warehouse team members, managers, business owners.
Course content:
Case study review of recent food safety break-downs and learning (The WHY we are in training)
Introduction to legislative requirements for HACCP plans and their importance (the WHY auditors insist on training)
How best practice food companies operate – FSSC 22000. (The HOW we implement our learning as a company)
Introduction to food safety hazards (Physical / foreign matter-P; Chemical & Allergenic-C) (The WHAT risks to be aware of)
Introduction Microbiology – M risks (Pathogenic bacteria, toxins, moulds, and yeast) – Simplified, detailed and VISUAL (The WHAT risks to be aware of)
Codex Alimentarius 14 step methodology applied in simple picture format
HACCP as a tool for identifying and controlling potential hazards (The HOW we implement our learning)
Group exercises to work on-site HACCP flow charts and HACCP plan
CCPs and critical limits relevant to workplace and department requirements
How CCPs, critical limits and controls are applied – Multi-sector testing of learning
Group exercises to practically implement critical limit knowledge learned
Corrective actions to be taken if limits are exceeded (The WHEN further control is applied)
Introduction to best practice risk control techniques such as preventative actions, problem-solving, root-cause-analysis (RCA), minimising the risks from confirmation bias, how to implement human factors learning in the workplace, food safety culture, and why measuring it matters (The WHEN training must kick-in).
Visual application of HACCP with videos and practical examples
Individual coaching towards how to develop, implement and review a HACCP planNZQA Level 5; 20 Credits
This Food Safe training is available on request for groups as small as 4 or more.
This video explains how Food Safe successfully collaborates with companies to deliver food safety training: