Food Defense Training including VACCP, TACCP, Food Integrity & Authenticity
Food Defense for learners, QC, QA, Management, and all review team members protecting food & packaging from acts of intentional adulteration or tampering
About Food Defense Training
Food Defense is the effort to protect food from acts of intentional adulteration or tampering. It is also referred to by the FAO as protecting food integrity and ensuring its authenticity.
Food Safe's Food Defense Training:
Reduces a company's Food Defense risk the first time, proactively.
Includes entire FSMS and VACCP & TACCP
Covers Food Defense process steps, including Food Defense plan builder, template, and checklist
Immediately meets audit requirements including BRCGS Issue 9, FDA, FSANZ, Codex FAO Food Security, GFSI,  FSSC 22000 Version 6, SQF, and supplier requirements such as WSE Woolworths and McDonalds
NZQA Training PTE Approved by MPI, all auditors and verifiers
Provides a best-practice understanding, including all process steps for risk evaluation
Ensures your team understands 'why' in an

enjoyable and practical

way!
This course is suitable for:
Operators, QC, QA, Quality officers, Management, Technical & all HACCP, VACCP & TACCP review team members
Useful for: Entire food supply chain, from farm to fork including production, support services & packaging companies
Course Duration: One-day course
Options: Expert instructor-led online and on-site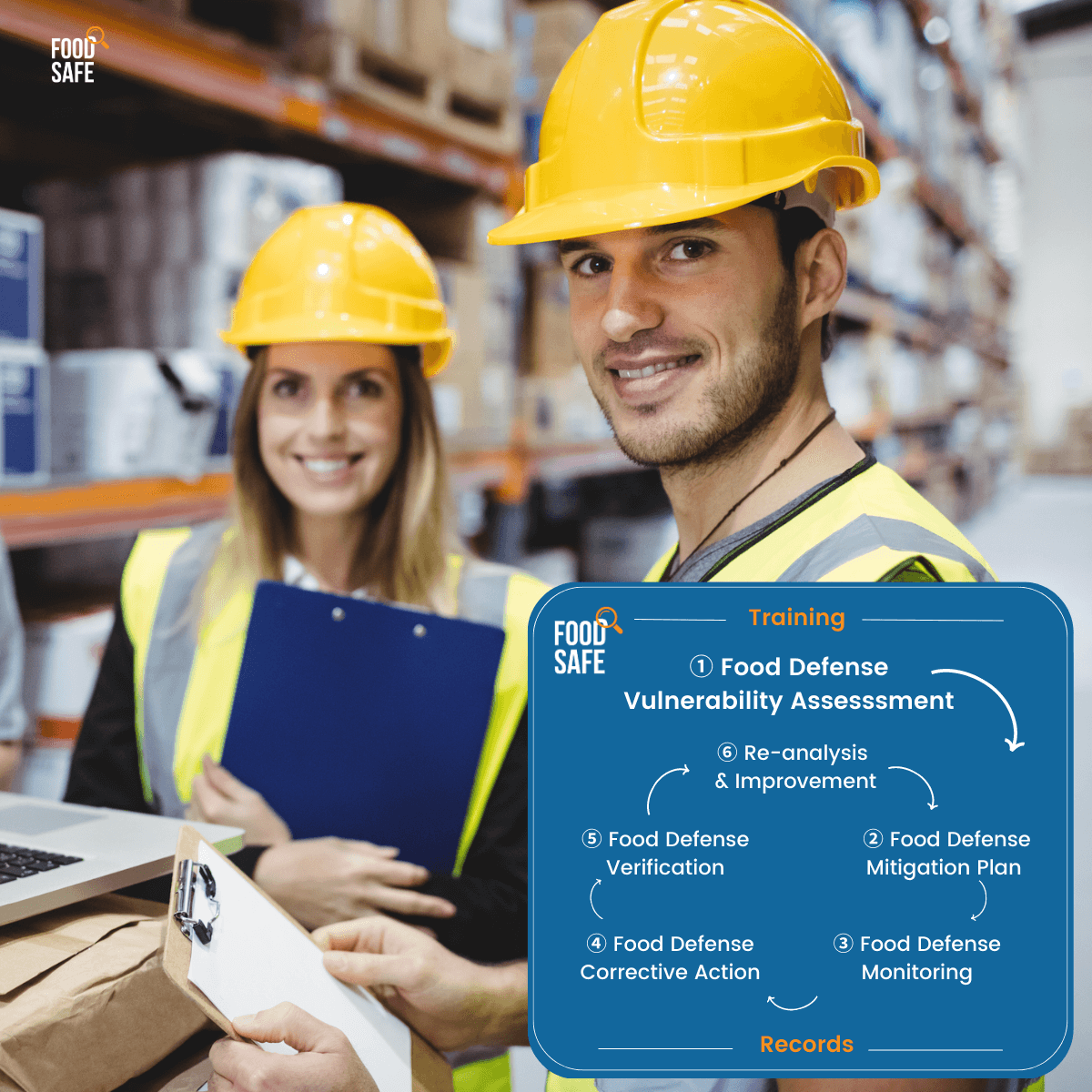 Food Defense Training includes:
What is food defense, and why is it important?
What is VACCP & TACCP and how this fits with HACCP under a Food Safety Management System (FSMS)
Case study reviews of food safety threats and food vulnerabilities
Examples of Biological and Chemical Terrorism directed at food, globally and in other countries such as the USA, New Zealand & Australia
The UK Government Elliot Report 
Definitions and guidelines, such as PAS 96
Regulatory and certification programs requirements including BRCGS, FDA, FSANZ, Codex FAO Food Security, GFSI, and FSSC 22000
Food defense control measures include:

Vulnerability risk assessment approaches including an introduction to a simple risk matrix, SSAFE, and FDA CARVER+Shock Primer methodologies
Risk mitigation strategies
Food Defense Monitoring
Food Defense Corrective Action
Defense Verification
Reanalysis & continuous improvement
Food defense training and record keeping

Process steps risk evaluation

Raw material risk assessment
Purchasing
Inwards goods
Storage
Production/processing 
Packing
Dispatch
Distribution & Logistics

Best-practice template plan builder, and checklists
Practical review of your company's food defense plans
External audit requirements for food defense penetration test best practice
All this is packaged in a fun and interactive way (don't take just our word for it, read what our learners for over a decade have to say, by clicking on this link).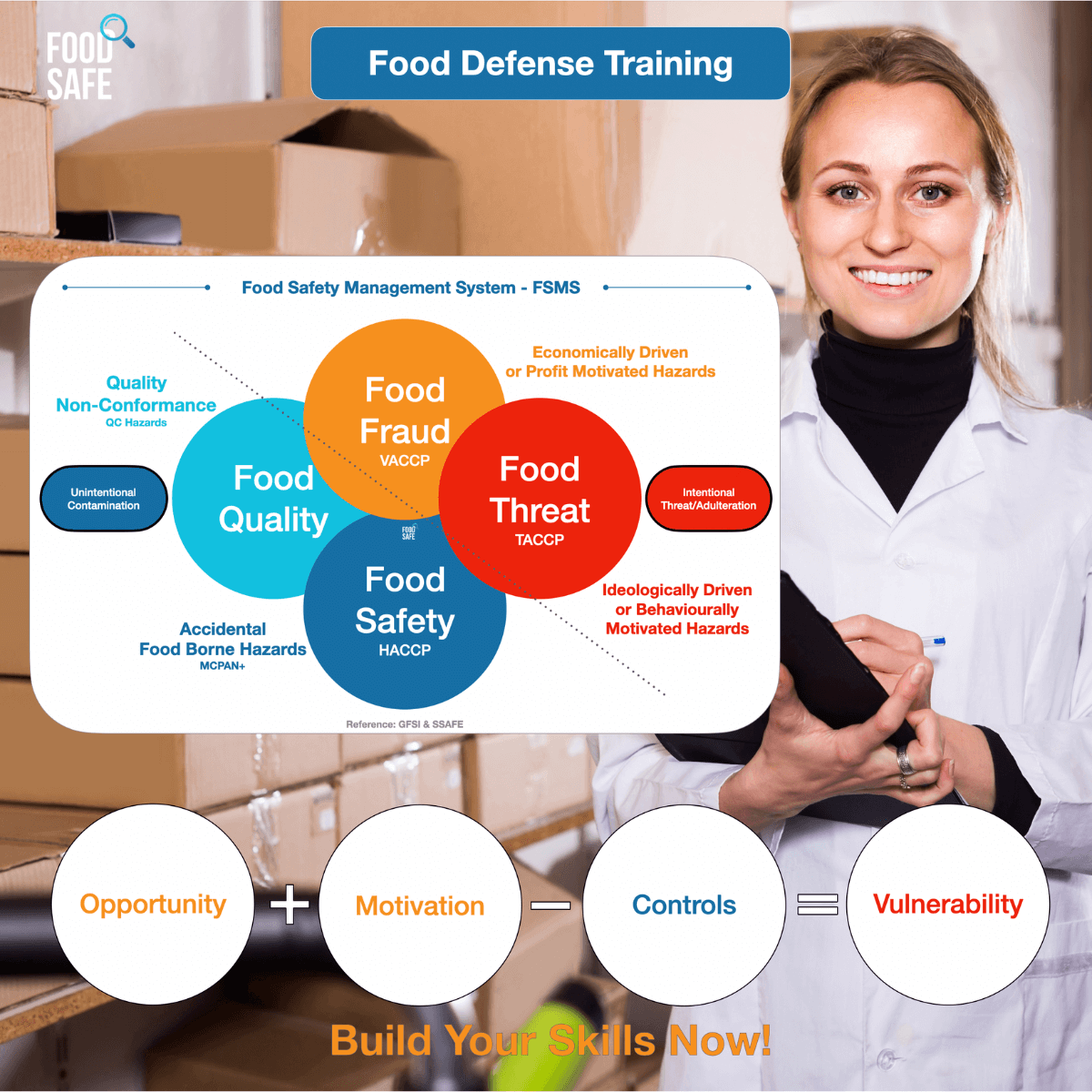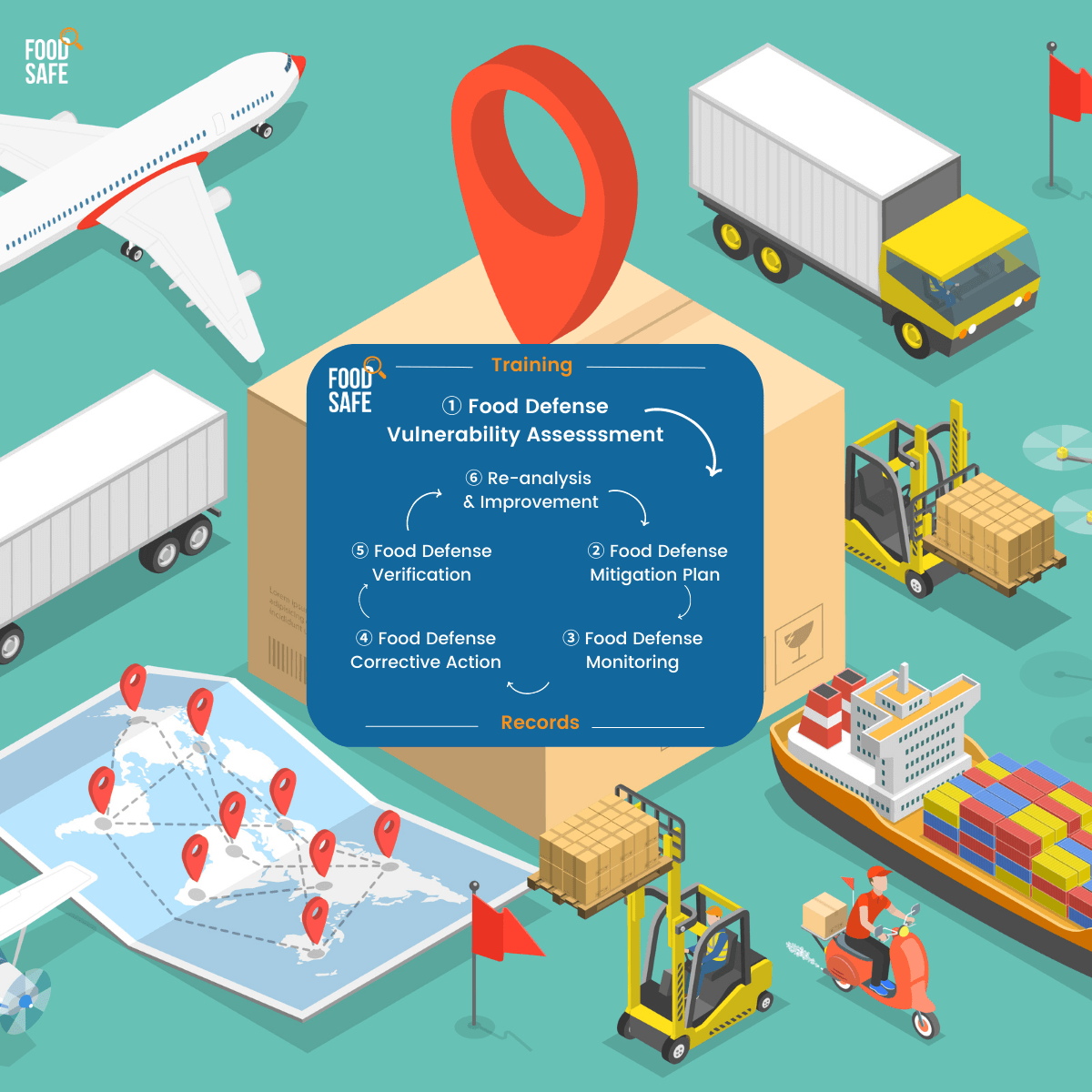 Food Safe's Food Defense Training Courses are delivered by Food Safe's Managing Director, Lead-trainer & Food Safety Expert, Keith Michael who holds:

A Masters Degree in Operations Management
30+ Years experience in Food Processing & Auditing
15+ Years in High-compliance manufacture eg. Infant Formula & RMPs
Dairy Manufacturing: Technical & Specialised Operations
Certificate in Company Direction from the Institute of Directors (IOD), New Zealand

Keith has presented papers at the Food Safety Conferences in 2019, 2020, 2021 & 2022 and brings this cross-sector learning into training.

Keith has over a decade of experience as a company director where he has assisted companies across the globe with Food Safety Compliance, Risk Audit, and closing of gaps identified with smart purpose-built competency training. View Keith's profile on LinkedIn.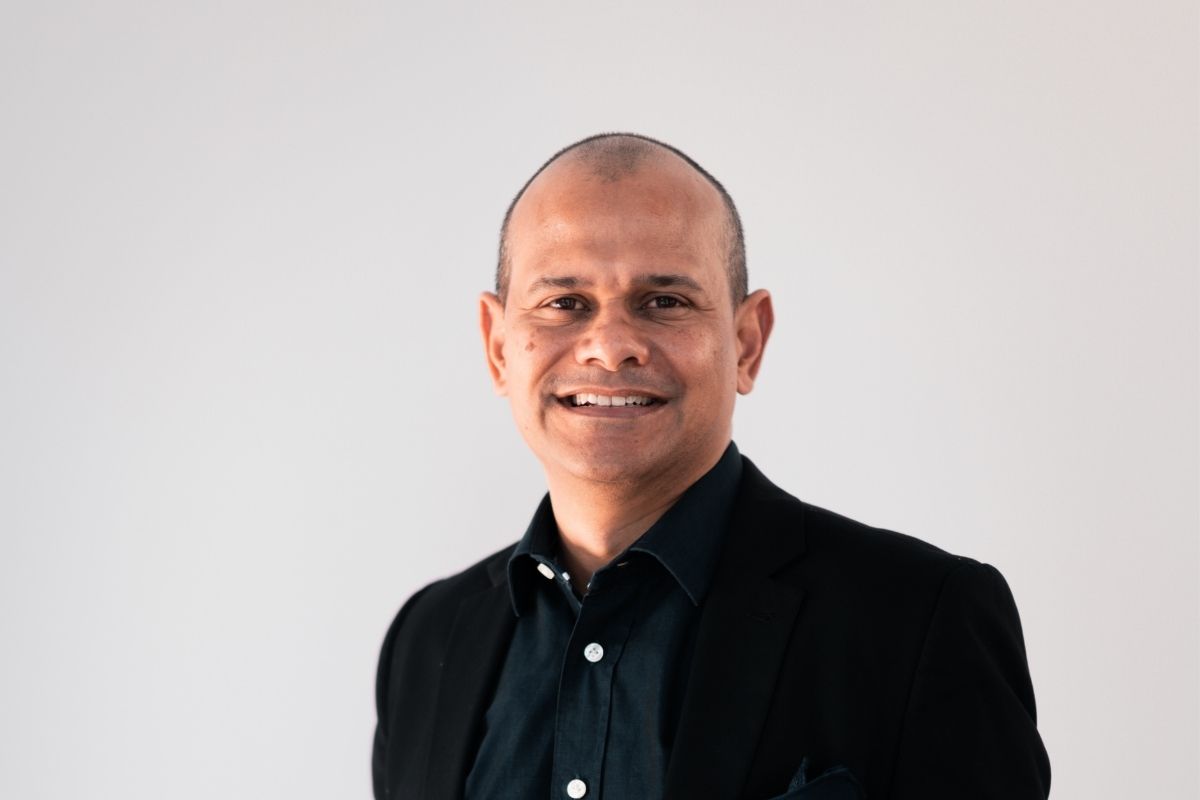 Why Choose us for your Training?
Food Safe's Food Defense Training:
Complements compliance audit requirements by NZQA, Category 1 PTE, New Zealand's highest training provider standard
Is simplified and visual, and supportive of implementing learning back on-job
Is delivered by a trained ISO 9001 & 22000 lead auditor
It is delivered by a trainer with first-hand knowledge and experience in high-compliance operations where Food Safe also operates, such as the meat, dairy, and seafood sector. This allows us to transfer best practices.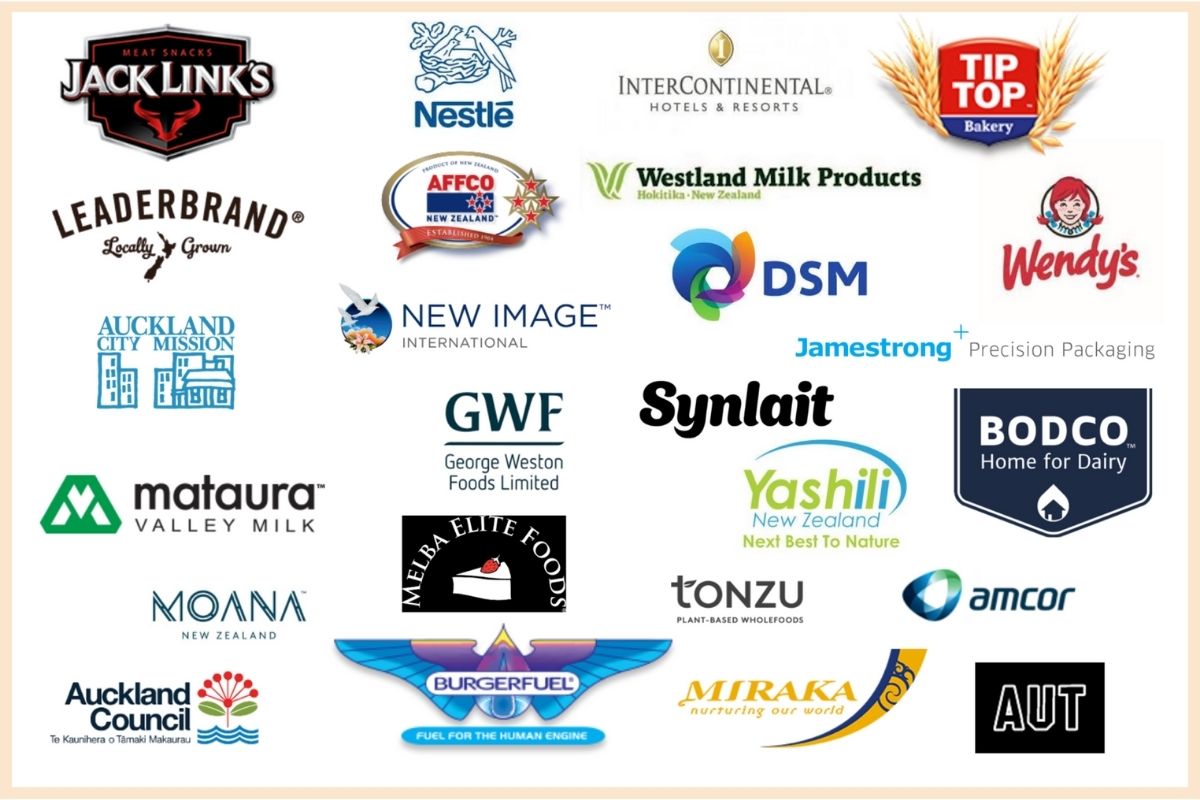 How Food Safe collaborates with food companies to deliver food safety training
Introduction: SSAFE Assessment tool
Strategies to Protect Food Against Intentional Adulteration – FDA
CARVER Plus SHOCK Method for Vulnerability Assessment – FDA
Front line employees training
A Risk Practitioners Guide – Source IRM